Third Party Administrator Programs Provide Excellent Framework for Restoration Customer Service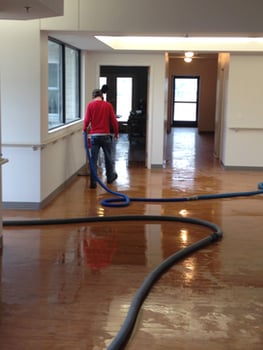 Love them or dislike them, our insurance restoration business model has been molded by Third Party Administrators (TPAs) from the onset of our business plan. This was intentional to simplify our new restoration service division in a complex industry to satisfy all end users, i.e. insurance companies, and policy holders.
We recognized that the TPA programs as a whole offer the frame work for high levels of customer service for all entities that we serve. Our systems are based on the TPA frame work, so whether we are involved under one of their programs, or work that we do as directly hired by an insured, our service will be the same consistent level of quality.
What we have gleaned from TPA models:
Cost Efficiency and Predetermined Pricing – One of the reasons TPAs were originally developed was to help make claims more cost efficient. We use the same estimating software as the insurance carrier, so our pricing matches. This takes out any discrepancies or a source of discontent with the insured. It also eliminates the need for a policy holder to waste precious time shopping for a restoration company based on the price.
Improving Service Time – TPAs have strict reporting requirements to track response times and work progress. Our parent company, Wolgast Corporation, a 70 year old commercial contractor, has a reputation for getting buildings built quickly. We draw from their experience and processes to set milestone dates and ensure that we're efficient and meet deadlines established at the start of the project.
High Level Customer Service – In our program work by TPAs, we are regulated as to how quickly we respond to a claim, how quickly we provide estimates and how quickly we complete our work; all things that are important to the affected policy holder. This has helped us to provide excellent customer service to policy holders, many of whom have sent us letters of goodwill stating their appreciation during their time of need. We have taken this a step further with sensitivity training for our first responder staff members to help instill in them that they don't just need to quickly expedite critical restoration processes, but also that they need to provide emotional support to the insured during a highly sensitive time.
Maintaining Qualified and Well Trained Staff – Each of our staff members have been trained and certified in their area of expertise, as well as have had background checks prior to entering an insured's property. This is how we can confidently comply with TPA programs as well as reduce risks of deviation from our reputable service.
We continually hone our processes to continue to improve our speed, efficiency, customer service, and staff development, as we speculate that TPAs will continue to expect more. This is how it's been since the inception of Wolgast Restoration and how we set ourselves apart.
Check out these blogs:
How to Meet Expectations of Property Insurance Customers after a Disaster
Being What Agents and Adjusters Seek in a Restoration Company
How to Solve Your Biggest Problems with Property Content Recovery