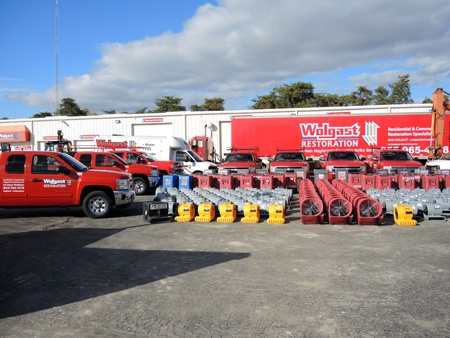 The insurance restoration industry is filled with franchised, nationwide companies. They have come with an established name and a network of connections. However, based on our experience as a general contractor reconstructing structures after they were damaged, we saw there were areas for time savings to get our clients in their buildings or homes faster. Being independent gives us more flexibility to tailor our service to each unique situation. Furthermore, being systemized, employee-owned, and having an experienced construction crew on our team, we provide many benefits to quickly mitigate, clean, and restore your property following a disaster, getting our mutual clients in their building faster and the restoration project closed earlier.
As we started planning for our restoration division, we had to face the barriers associated with being a start-up and an independent contractor. However, we had many things already going for us to enter into the industry and enough exposure through our previous reconstruction projects to know how we'd like to change things in our market to set us apart from our competitors. First off, we were already a systemized company and could apply the same planning to create a seamless flow from our restoration services to our construction services and streamline the process, making it quicker for residential or business owners to get back into their home or building.
Also, we are an employee-owned company which leads to many advantages for attracting quality staff and also to provide an elevated level of customer service. Our employee ownership program makes each staff member vested in the success of the project, so they will make you look good in the eyes of our mutual customer. We have 130 staff members, giving us the ability to do much of our work in house, and to accommodate large loss projects easily. Additionally, being paired with a construction company gives us ready access to back hoes and two-ton dump trucks which can make work move along quicker.
Additionally, we had the flexibility to add services that aren't common among many restoration companies. Those include content cleaning, storage, and re-construction. We have two storage warehouses to take on multiple content storage projects, if needed, and our construction division has almost 70 years of experience in commercial and residential buildings, with the ability to design and rebuild damaged structures. Over the past 69 years, Wolgast has done its fair share of reconstruction after a fire, vehicle impact, or flooding. We could see that there were delays that prevented us from starting our work as we waited for paperwork to be filed and the project to be handed to us to start construction, based on an additional company being introduced to the mix. Now, by being on the same team, communication with the insurance company can take place earlier, plans can be drawn, materials can be ordered, contractors reserved, and the process can run more smoothly to get our customers in their building quicker.
We are interested in being added to your approved vendors list. Please contact us for information, 888-WOLGAST. This is also our 24-Hour hotline for emergency calls, should your client need our services in an emergency.