The Restoration Contractor's Role in a Dynamic Team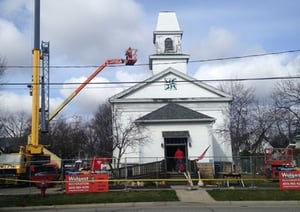 A Property Restoration Contractor is in a unique position with diverse clients and multiple customers on each of their projects. It's the restoration contractor's responsibility to find the best solutions that both the policy holder and the insurance adjuster can agree upon.
Wolgast Restoration, a systemized company, feels they have found a solid program to be a solution provider to this dynamic team. Their systems have been developed to include the steps for best case outcomes and case studies they've accumulated through their own past experiences. The system dictates the steps they take on each unique project, which helps the process run smoothly, communication, stay open, and expectations be met.
Should expectations not be met, it can sour the relationship for most or all parties. And there are expectations throughout, starting with the initial meeting of the policy holder, which is typically a highly upsetting time for the policy holder as they've just experienced a loss and are facing many unknowns. As part of Wolgast's process, staff members are trained on how to handle sensitive situations. When there is a large project to tackle, sometimes it's easy to jump into action without realizing that the policy holder's world seems to be in shambles. Having Wolgast's team members address the direness of the client's situation helps to start the project with trust that they'll be taken care of.
Other expectations to be met are the scope of work, what will be covered, and what the restored property will look like when it's finished. Wolgast addresses this by using Xactimate software and following IICRC guidelines. A Restoration Contractor can easily set expectations for the cost of the restoration by using Xactimate estimating software as it's the same software/pricing that the adjuster uses for their estimate. This takes out the guessing game early in the process. The contractor and adjuster only have to agree on the scope of work at this point, and the methods of restoration are dictated by the standards of IICRC, also well known throughout the industry.
Furthermore, in the unfortunate case of a total loss, say due to a fire, Wolgast Restoration is part of a team of licensed Michigan Builders that have been in business for 70 years, which includes a licensed architect on staff. This is an advantage that Wolgast Restoration brings to the table. A team of this caliber with the knowledge of the insurance industry standards, language, pricing, and policies; plus a skilled construction workforce and architect will complete your restoration quickly, efficiently, and with expected outcomes.
Lastly, Wolgast has established good ratings with all Third Party Administrators with which they work. The TPAs appreciate our professional and systemized approach to insurance restoration. Wolgast works hard to maintain their scores with these TPAs and will do the same for insurance adjusters, agents and their customers, so all parties can maintain their respective clients.