In a high stress situation of a Catastrophe (CAT) Loss, it's easy to forget that insurance carriers and restoration companies are working toward the same goal: restoring a property to a pre-loss condition while satisfying the policy holder efficiently. Meeting the customer's needs can be taxing for both ends of the spectrum whether it's matching coverage expectations or the speed and manpower expectations, all while numerous other customers are also calling to notify you of their needs. Wolgast has a plan in place to support insurance carriers during this harried time.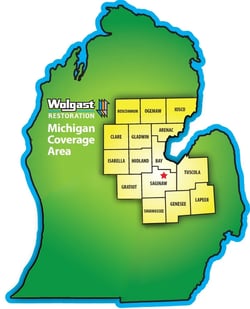 We know the importance of moving quickly to reach the optimal number of policy holders and following through with quality service to keep them happy. As a systemized company, we use a carefully constructed and laid out CAT protocol/process and are prepared to reach a wide variety of property owners in a short amount of time, plus we have the capacity and resources to effectively handle their restoration needs by drawing from our general construction division and its staff when necessary. This system guides us to know the manpower that we will need, the responsibilities of each staff member and the communication necessary to remain responsible, accountable and organized. Also, with two locations in Michigan, one near the center of the state in Freeland and one in the southwest in Kalamazoo, we're ready to cover a large portion of Michigan to readily help you serve your clients.
Our specialty restoration services for quick reference:
Board-ups
Content Clean-up and Storage
Restoration of water, mold, fire, smoke, wind, vehicle, and/or vandal damage
Rebuilding (General Construction Division)
We are specialized handle any size claim for both commercial and residential property owners. Please contact our 24-hour hotline at 855-WOLGAST in the event of an emergency.
Download our White Paper, "Reduce the Effects of a Disaster on Your Business" at: www.wolgastrestoration.com/reduce-the-effects-of-a-disaster-on-your-business to learn the details about how we do this for Businesses.