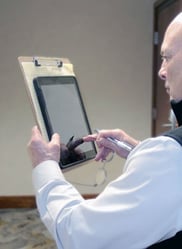 When a client is displaced from their home or business, time is critical to get them to pre-loss condition, quickly. Each project starts with an assessment of the loss and a restoration estimate. There are three key things that make us fast and accurate in our estimating.
First, we are systemized, so each project is handled the same way and steps are not missed. Our Project Managers (PMs) know what is needed because of their expertise and an established and comprehensive guide, so they record needed information, such as measurements and materials that are being replaced during their initial site visit.
Second, the PMs are involved at the start of the project and visit the loss site to evaluate the size of the loss and what needs to be replaced. PMs have the relationship with the client throughout the process and know the means necessary to complete reconstruction, so they are the best option to be the eyes and ears onsite with the client. Then the PM collaborates with our expert Estimator who works in Xactimate, an industry standard software for estimating, to provide the most accurate cost for reconstruction. It is the same software that the adjusters use, so we are comparing our numbers apples to apples with them. We're also able to provide our estimates more quickly, accurately and efficiently than many of our competitors because we use a 3D camera to take a walk-thru image of our properties. This visual allows us to make future measurements and verification without costly travel time spent back to the site. Additionally, our Estimating team has been Xactimate certified and has years of experience to know how to code for accuracy.
Third, we're a Division of Wolgast Corporation, a 70+ year old construction company that supports us in our estimate planning when necessary (i.e. a total loss). We know construction and are able to provide accurate estimates quickly as to keep the restoration momentum going and satisfy our client faster.