Are you prepared for the potential storms that accompany it?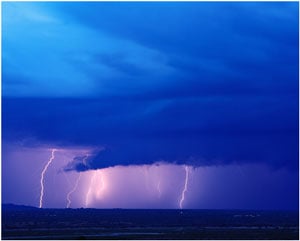 In the spring, we turn our clocks ahead one hour and our thoughts to warmer weather and the activities we love. We plan barbecues, picnics, ballgames, camping and a wide variety of other outdoor activities.
No one likes to cancel outdoor activities, but when severe weather threatens, we need to prepare for the possibility of damages occurring not only to ourselves, but also to our home and business. Thunderstorms, hail, rain and tornadoes cause varying degrees of damage.
Some valuable things to remember when faced with potential severe weather:
*Check the local weather report for your area or your destination (weatherchannel.com or local news or radio station) to see if there is a chance of severe weather. You may need to change your plans, or at least wait until the threat of severe weather has passed before heading out.
*Remember that storms can develop quickly and without a lot of advanced warning. Having an emergency kit in your home and vehicle can provide you with much-needed necessities if caught without power or you are stranded.
**Flashlights and extra batteries, candles, matches, disposable lighters
**Battery-powered radios, cell phones
**Water/non-perishable food for at least 3 days for each person
**Blankets, pillows, extra clothing
**Moistened towelettes, garbage bags
**Tool kit
**Books and/or games
Remember that disaster can strike at any time, and most people are not prepared for it, even though they may think they are. Being prepared for any emergency will help to alleviate stress when disaster does strike.
At Wolgast Restoration, when mayhem strikes, we strike back!"