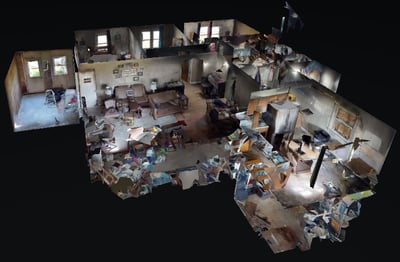 Wolgast Restoration has added technology to make their service even more efficient. The Matterport 3D Camera is a high resolution scanning device that lets us take 3D photos to turn into a high quality, precise, 360 degree, walk-through, interactive image online. The qualities and capabilities of the scan have many benefits that are useful to Insurance Companies, including quicker estimating and more efficient management of restoration activities. By scanning a building interior with the camera on an initial site visit, we can use the software's capabilities to do follow-up measurements or verification if needed, get additional/outside input via email without subsequent site visits, and keep high-quality documentation of the state of the property.
Speed is everything in the restoration business and we continually invest in technology and equipment to better serve our mutual clients in order to get them back to a pre-loss state as quickly as possible. The time saving aspects of the Matterport camera allows us to take on more claims in a shorter time frame, which is beneficial during a wide spread loss in our coverage area.
If you'd like to know more or have a client that needs our expertise, please call us today.
Help your clients find us in their time of need at 855-WOLGAST