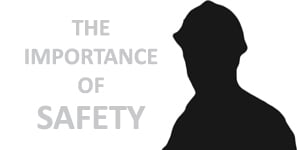 Properties that have been impacted by a fire, flood or other related weather loss, pose extra safety cautions. Wolgast considers it as important, if not more, than you do to keep everyone who enters the site safe. Property Owners, agents, workers, friends and neighbors may come and go during a restoration project, so explicit communication, signage, teamwork, proper personal protective equipment (PPE) and sometimes sanitization stations need to be available to protect site occupants. Wolgast Restoration factors this into our project planning.
On any given site, we need to be prepared for a variety of issues that are associated with a loss, such as structural issues, airborne or water contaminants, sharp metal or exposed electrical wires to name a few. Once restoration activity starts, there are additional safety impacts to prevent involving elevated spaces, trip hazards, construction equipment and tools, etc. Our Field Employee-Owners have been OSHA Safety Certified as well as IICRC Certified. Additionally, we have a safety incentive program whereby the monetary pool is funded by completing safety behavior and practices that our Safety Committee has determined will result in increased protection for all. Daily safety planning, meetings, communication, documentation are among these actions. The better the safety behaviors, the better the safety culture and the bigger the pool of money. The money is used to supply staff members with gift certificates for steel toed boots, coats and gloves of their choosing that further protect them from elements on a construction site.
The point of this blog is that you won't have to worry about further issues on your customer's property when any loss already creates high stress. And that is important when choosing a Restoration Company. Additionally, being safe speeds up the restoration process, which is good for all of us.