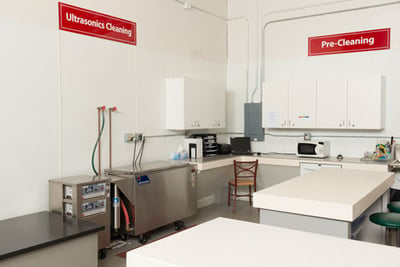 Contents are a substantial part of a property insurance loss. Not only the cost of replacing, but also an owner's emotional attachment to items can be significant. Being able to clean or salvage 80% or so of a building's or house's contents after a flood or fire is beneficial to reducing the loss for the owner. Years ago, insurers didn't think it was worth taking the time or effort to clean the contents, but with modern practices and equipment, the quicker turn-around time and success has proven to save on restoration costs.1
Content cleaning is a job of precision for dedicated and compassionate technicians to restore another's personal items. We're one of the few Restoration Companies in Michigan to provide this service in-house with an Ultrasonic Machine. Our Employee-Owner Cleaning Technicians are well trained with the knowledge of the right process, temperature, PH levels, and settings for the Ultrasonic Machine to really get into the cracks and crevices of the items being sanitized. The machine uses sound waves and water to also remove soot and rust from many types of materials. We've been able to restore old style floor grates from older houses that are hard to find for replacement and we can also use the Ultrasonic Machine to clean ceiling diffusers that are impacted by restaurant fires. Its versatility and ability to remove difficult to reach dirt from tiny crevices of knick knacks and other intricate or hard to clean items really surprises our clients. Recently, we were able restore a widow's collection of old hand tools that had been her husband's. She'd suffered a fire loss at her home and the Ultrasonic machine had the precious items looking better than they had in a long time.
Secondly, we offer the Ozone Generator that uses O3 to take out the smells associated with smoke damage or other unpleasant odors. Restoration companies that have their own content cleaning staff and equipment can deodorize many items that wouldn't be expected to be restored. As part of our Content Cleaning Service, we have trained professionals in house to run the equipment and see that impacted materials are cleaned effectively and safely to be returned to the insureds home or place of business, toxin free. Additionally, we're able to use the Ozone Generator on site, which speeds up the restoration process and gets business owners back in business faster.
1 https://www.propertycasualty360.com/2014/07/01/the-perils-of-pack-outs/. "The Perils of Packouts", 7/1/14.