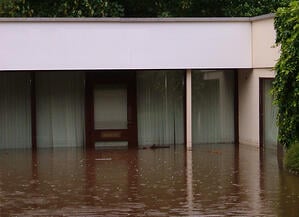 Michigan isn't known for being at high-risk of disastrous flooding caused by heavy rains. But last August, Detroit experienced a record rainfall of 4.57 inches in one day. Some communities received more than 6 inches of rain. This unusual event was considered by many to be a 100-year flood, especially since the last rainfall of this magnitude occurred back in 1925. Detroit's average rainfall for all of August is only 3 inches.
The water reached a height of 14 feet on some roadways. This event shut down major freeways, stranded hundreds of motorists and caused one death. This is especially disturbing, since it occurred during one of the driest months in Michigan.
Now that spring has arrived, we face the prospect of even more severe flooding from melting snow and spring rains. We saw record flooding in April of 2013 and some Michigan rivers have already flooded their banks this month.
The key to good flood preparation is to know and understand your hazards. Proximity to water is the number one risk factor to flooding. Flood maps, available from the National Flood Insurance program can help you to determine if your facility lies within a flood plain. Also, perform a thorough examination of your facility itself. Be sure all downspouts and drains are clear from debris and adequately direct water away from the foundation of the building. Over time, parking lots and landscaping can gradually deteriorate or erode, changing the way water flows and puddles on your property. If your property hasn't been properly maintained or improved for several years, it is a good idea to hire an expert in these areas to perform a flood risk assessment.
While we are in the business of restoring property after a flood or disaster occurs, we feel it is important to make business owners aware of other damages, besides property, that a flood can inflict on their business. An event like the one last August may not have caused extensive property damage, but it did impact the infrastructure responsible for generating millions of dollars of daily revenue for the local communities and businesses.
Every business should have a contingency plan to minimize the impact such a disaster can have on their business, if the local infrastructure is compromised. This type of plan can include:
Creating alternative shipping and receiving routes.
Warning customers of possible delivery delays.
Having alternate or backup suppliers in place, in case your suppliers are affected by the same disaster.
Developing an emergency cash reserve fund to cover payroll, vendor contracts, mortgage payments, leases, etc.
Establishing an adequate line of credit in case you don't have enough cash in your emergency fund.
Keeping a list of key contacts for those that provide administrative services for your business.
Evacuating critical documents and backing up electronic data files.
Protecting or removing vulnerable computers, equipment and machinery.
Setting up an off-site management and operations command post.
Creating an emergency communication channel and protocol for employees to report to managers.
Developing good relationships with public agencies and corporate partners can improve your ability to protect your business and return to normal after a disaster. Maintain a communication channel with community leaders, public safety agencies, government agencies, utility companies, insurance companies, and disaster restoration contractors. Working with outside agencies can be very beneficial, because they can provide you with a wealth of information to help you recover quickly from a disaster.