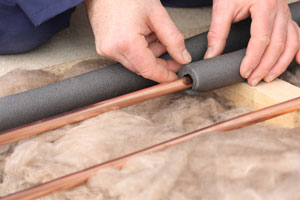 Frozen pipes are one of the most common and costliest property damage events during the cold winter months. In fact, a burst pipe can result in tens of thousands of dollars in damage. Fortunately, frozen pipes can be prevented quite easily and inexpensively.
Water freezes when heat in the water is transferred to subfreez­ing air. The best way to keep water in pipes from freezing is to slow or stop this transfer of heat. Ideally, the best way to protect pipes from subfreezing tem­peratures, is by placing them only in heated spaces and out of attics, crawl spaces and outside walls. Unfortunately, this may not be a practical solution for existing homes. In the case of new construction, however, optimal pipe placement can be designed into the building.
Vulnerable pipes in existing homes should be fitted with insulation sleeves or wrapping to slow the heat transfer. It is important not to leave gaps in the insulation that expose the pipe to cold air. Hardware stores and home centers stock a variety of foam rubber and fiberglass sleeves, in various thicknesses.
Cracks and holes in outside walls and foundations near water pipes should be sealed with caulking to keep cold wind away from the pipes. Kitchen and bathroom cabinets can keep warm inside air from reaching pipes under sinks and in adja­cent outside walls. It's a good idea to keep cabinet doors open during cold spells to let the warm air circulate around the pipes.
Electric heating tapes and cables are also available to run along pipes to keep the water from freezing. These must be used with extreme caution; follow the manufacturer's instructions careful­ly to avoid the risk of fire, and check to make sure the product conforms to UL 2049. Tapes and cables with a built-in thermo­stat will turn heat on when needed. Tapes without a thermostat have to be plugged in each time heat is needed, and may be forgotten.
Tips to Prevent Frozen Pipes:
Install a reliable back-up power source to ensure continuous power to the building.
Insulate all attic penetrations.
Properly seal all doors and windows.
Seal all wall cracks and penetrations, including utility service lines.
Install insulation and/or heat trace tape with a reliable power source on various wet sprinkler system piping. This includes main lines coming up from underground passing through a wall as well as sprinkler branch lines.
Place a monitored automatic excess flow switch on the main incoming domestic water line to provide early detection of a broken pipe or valve when the space is unoccupied.
When away from home for an extended period of time, don't set the thermostat at too low of a temperature. If you are not sure how low to set the temperature, consider shutting off the main water supply and draining the water system.
Open bathroom or kitchen faucets adjacent to outside walls to allow the water to slowly drip. This won't necessarily prevent the pipe from freezing, but it will relieve excessive pressure to prevent the pipe from bursting, if it does freeze.