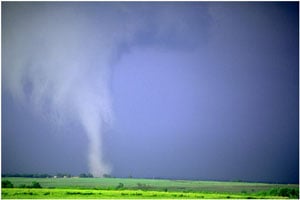 If you've been unfortunate to witness what a tornado can do to a school, you know it's the most awful thing in the world. As a parent, sibling, aunt, uncle or grandparent you assume that your loved one is safe each day they're at school. Unfortunately, there's no guarantee that when bad weather hits it will pass over a school with no damage. We're coming into the stormy season: Is your District prepared?
We're pretty lucky in Michigan since we don't need much concern for hurricanes and major flooding. Of course, floods do happen, but not as much as a chance for straight line winds or tornadoes in Michigan. In fact, the average number of Tornado's touching down in Michigan is 15-21 per year. That number was down in 2012, but history shows there really isn't a predictor out there to say if 2013 will have more or less activity. Michigan's tornado season starts in April and runs through August (but has seen tornados outside these months). Our peak season is May, June and July, thankfully, when classes aren't typically in session.
Do you know what would be the first thing you would or should do, once the children and staff are safe and sheltered? Facing any damage to your buildings would be easier and on target if you teamed with a professional and experienced restoration company like Wolgast Restoration. By developing a relationship and strategy before you have an emergency would ensure the most effective, strategic, efficient way to make the decisions your District will face.
Once you develop a Disaster Response Plan, which Wolgast Restoration can assist you with, it must be in place and managed at all times. Some situations require immediate critical response, so having these documents ready is important for cost containment and proposed techniques in advance of implementation. Time is always critical when a disaster strikes and having an agreed-upon course of action will alleviate potential problems. Resources could already be in place to meet most of the demands of the situation, such as; knowledge and contact information of officials (fire marshal, school board, local building inspectors, etc.).
Wolgast Restoration is familiar with how schools operate and insurance claims, and would work well with your insurance adjuster. With the team formed (Wolgast Restoration, Superintendent, the District's facilities and operations staff, local government officials, school board members, etc.), the level of communication established and all detailed documents in place YOU ARE NOW READY to handle a disaster should it happen.
BE PREPARED AND LET WOLGAST RESTORATION HELP YOU.