Basement Flooding Safety & Preparedness
(Part II of II)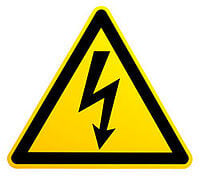 HOW SERIOUS IS BASEMENT FLOODING:
There are a lot of hazards associated with wet or high moisture basements. There are increased respiratory problems, harmful mold, long-term damage to the structure and equipment, personal property damage and possible decrease in house value. Not to mention the inconvenience and hard work to fix the problems. The number one inconvenience for most is the cost, which can add up to tens of thousands of dollars in damage.
IMPORTANT SAFETY ISSUES DURING A FLOOD:
Do not stand in water and reach for any electrical items. If possible, wear rubber boots and if you have to touch any electrical parts use a wood or plastic item – better still, call an electrician. Safety should always be number one in your mind with water and electricity.
Mold can set within 48 hours with standing water. There may also be sewage contamination that would also have to be considered. The faster you can remove the water and get the structure dry the less severe your loss will be. Don't wait for approval from your insurance provider to remove the water, do what you must to remove it quickly. Take photographs and put dates and descriptions on them for your insurance company.
If the job is too big for you, please call a reputable restoration company to help get you dry and explain what must be done to protect you from further problems such as mold. Always explain what coverage you have with the restoration company as sometimes they'll do more work than you have coverage, leaving you with a huge bill you can't pay. Again, please discuss fully with your agent for proper coverage amounts. This will help when you have a loss and you know what you are able to pay yourself.
PROTECTING YOUR PERSONAL ITMES:
Put your personal belongings on shelves to keep out of water's reach. Furniture with legs will help keep the water out of the material, but raise and pin the skirt if it has one. If your basement has high moisture, run a dehumidifier, especially in the summer when outside moisture is high.
INSURANCE COVERAGE:
Unfortunately, many people don't realize that you are required to buy additional coverage for any water back-ups that occur in the basement and sometimes under estimate the coverage that they purchase. Roughly 22% of all residential insurance claims are from sump pump overflows and burst pipes. It's in your best interest to thoroughly discuss this coverage with your insurance agent in determining the right coverage and discuss what may not be covered as well.
Be safe and dry in your own home. Your home is your castle – treat it that way and it will pay you back.
Part I - Don't Be Caught with a Flooded Basement This Spring